Table of contents.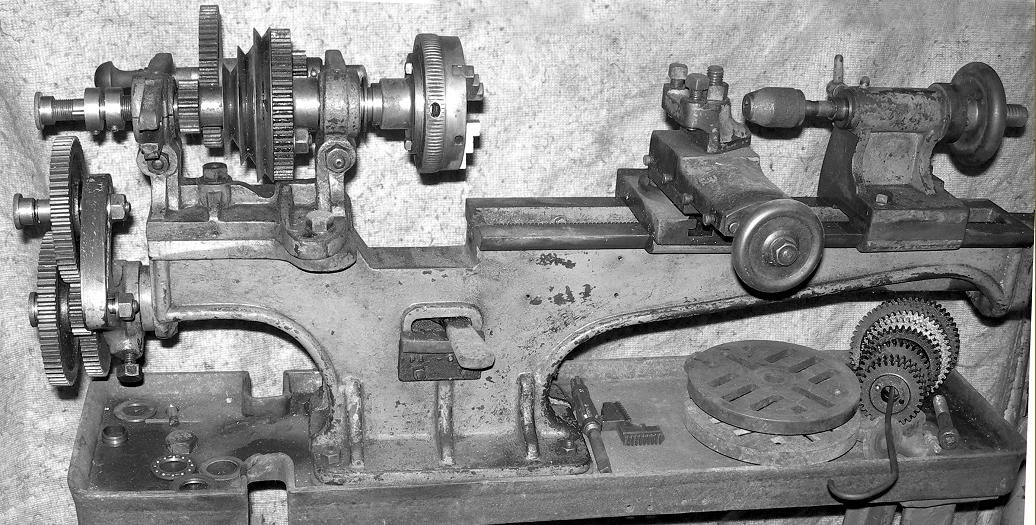 Super 7s of all years were well finished, but post models appear to have enjoyed more careful filling of the castings and a better cosmetic paint finish--as well as the traditional fully-machined and chemically-blacked nuts and bolts.
Bolted to the bed by four high-tensile cap-head Allen screws it was aligned by a ground rectangular locating tongue fitted into the gap between the bed ways with two pusher screws, entering from the rear, pressing against the tongue and so holding the headstock hard against the inner vertical bed way.
The barrel was bored clear and passed through the handwheel - an arrangement that did have some advantages, notably if used for long-hole boring when woodturning.
Description: On both ML7 and Super 7 that part of the bronze backgear carried on the headstock spindle was in the form of a "sleeve pinion" - that is, the small gear was extended to form a long bush on which the pulley was pressed, the whole assembly rotating on the spindle when backgear is engaged - a design that did much to enhance the lathe's ability to run reliably at slow speeds for long periods. The spindle was immensely rigid and known for long, trouble-free life; the backgear assembly was similarly beefed-up, used stronger gears and was fitted with a very handy "flick-over" quick-release mechanism.